Discover press releases, articles, and other news about RESICAP, the nation's leading vertically integrated solution for single-family residential assets.
ResiHome Named Multi-Year Winner for Best Property Management Companies Award
August 19, 2020
ResiHome, a national property management company, was named as one of the multi-year winners for the Best Property Management Companies Award from PropertyManagement.com.  The annual award recognizes property management companies that consistently show exceptional performance and continue to provide clients with a high level of value and service.
ResiPro No. 4 on QR Top 500 List; remains one of largest remodelers in U.S.
August 17, 2020
ResiPro continues its trajectory as one of the largest remodelers in the U.S., coming in at No. 4 on Qualified Remodeler's Top 500 List for 2020. This is the second year in a row that ResiPro ranked as one of the top five on the list.
ResiBuilt Ranked as a Top 10 Private Builder in Atlanta by MetroStudy
August 11, 2020
ResiBuilt, a new home construction company and build-to-rent leader, was ranked the 9th largest builder by volume in Atlanta by Metrostudy. The ranking is a remarkable achievement for ResiBuilt, which was established only two years ago in Atlanta as the new home construction division of RESICAP.
ResiPro Now No.3 Largest Remodeler in the U.S.; Rises on QR Top 500 List
August 21, 2019
The 41st annual QR Top 500 List, published earlier this week, ranked ResiPro as No. 3 due to the company's remodeling gross sales of over $400 million across 34 states and 59 markets. The ranking is a significant jump from last year, where ResiPro placed No. 12 on the 2018 QR Top 500 List.
Doing It All – In 2018, ResiCap Brought in $483 Million with a Myriad of Services
June 27, 2019
The Great Recession put 8 million Americans out of a job, shuttered 2.5 million businesses, and forced 4 million homes into foreclosure. In a lot of ways, it also created ResiCap, a $450-plus million company that has the resources and capability to simultaneously renovate hundreds of homes, across dozens of states, for multiple clients.
For 2nd Consecutive Year, RESICAP Recognized as #1 Fastest-Growing Company in GA
June 13, 2019
RESICAP was announced as the #1 fastest-growing upper middle-market company in Georgia – a recognition the company has achieved for the second year in a row – during the 2019 Georgia Fast 40 Awards Dinner & Gala.  "Everyone who works at RESICAP should be proud of this accomplishment," said Betsy Wolf, VP of HR.
RESICAP Honored As Winner Of Two Gold Stevie® Awards In 2019 American Business Awards®
May 2, 2019
RESICAP was named the winner of two 2019 Gold Stevie® Awards for the Fastest Growing Company of the Year and the Real Estate Company of the Year categories in the 17th Annual American Business Awards®. The American Business Awards are the U.S.A.'s premier business awards program.
RESICAP co-CEO, Andy Capps, wins Auburn University's 2019 Entrepreneur of the Year
March 28, 2019
Andy Capps took the podium at the annual Auburn University Entrepreneurship Hall of Fame Gala and challenged guests: Concentrate on strengths. Radiate enthusiasm. Embrace responsibility.  They are traits that defined his character and helped mold Capps into one of the most successful businessmen in the nation.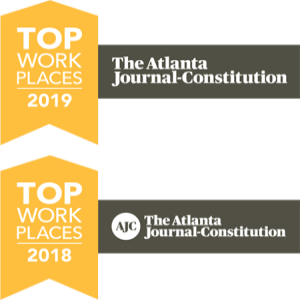 RESICAP Receives AJC Top Workplaces Award for 2nd Consecutive Year
March 5, 2019
For its second consecutive year, RESICAP has been awarded a Top Workplaces 2019, National Standard honor by The Atlanta Journal-Constitution. The award comes hot on the heels of RESICAP's recent expansion at its office location in the central Buckhead business district, with the opening of the 14th floor, including a full game room.
RESICAP Listed #15 on Entrepreneur Magazine's Entrepreneur 360™ List
December 20, 2018
RESICAP was recently recognized as one of the "Best Entrepreneurial Companies in America" by Entrepreneur magazine's Entrepreneur 360™ List, a premier study delivering the most comprehensive analysis of private companies in America, coming in at #15 out of 360 companies on the prestigious list.
RESICAP's Renovation Division, ResiPro (formerly Ameritrust Residential Services), is No. 12 on the 2018 QR Top 500 List
August 22, 2018
RESICAP's renovation division, ResiPro (formerly Ameritrust Residential Services) was ranked #12 nationally on Qualified Remodeler's 2018 Top 500 List. QR's Top 500 has been the leading benchmark of growth and success among remodeling firms. Each year, companies from all 50 states apply, but only 500 make it.
RESICAP Named EY Entrepreneur of The Year® 2018 Southeast for Real Estate and Construction
June 29, 2018
EY announced the winners of the Entrepreneur of The Year 2018 Southeast Program today, naming RESICAP, a leading service provider for the single-family asset class, as the winner in the Real Estate and Construction category.
RESICAP Recognized as #1 Fastest-Growing Upper Middle-Market Company in Georgia by ACG Atlanta
June 15, 2018
ACG Atlanta, the Atlanta Chapter of The Association for Corporate Growth® (ACG), announced last night that RESICAP is the #1 fastest-growing upper middle-market company in Georgia.  The recognition was announced during the Georgia Fast 40 Awards Dinner & Gala held in Buckhead.
RESICAP Co-Founders Selected as 2018 Southeast Finalists for EY Entrepreneur of the Year Award
May 8, 2018
The prestigious annual award recognizes the most exceptional entrepreneurs in the nation.  RESICAP co-founders and co-CEOs, Lance Popp and Andy Capps, are honored to be selected as finalists for the Southeast region and will find out results in late June at the Coca-Cola Roxy awards gala in Atlanta.
RESICAP receives AJC Top Workplaces Award
March 4, 2018
RESICAP received an Atlanta Top Workplaces Award for 2018, presented by AJC.  The award was presented at the celebration dinner at the Georgia Aquarium on Wednesday and announced in the AJC's special newspaper section on top workplaces in Atlanta.
Lone Star shifts tougher REOs to RESICAP; launches rental strategy
December 14, 2017
Lone Star Funds, a 70bn private equity firm, is embarking on an aggressive strategy to fix and rent out thousands of REO properties. To accomplish that, it is shifting control of all REOs to RESICAP.
Have questions?
We have answers!